1.5/4

2/4

1/4

2/4

2/4

3/4

3/4

2/4

4/4

2.5/4

3/4

3.5/4

1.5/4

3/4

2.5/4

1/4

1/4

3/4

2/4

3/4

1/4

2/4

1/4

3/4

0.5/4

Next 25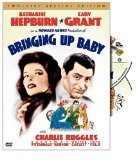 Bringing Up Baby
Bringing Up Baby
1/4 stars
I don't like Katharine Hepburn, Cary Grant, or screwball comedies. So...I guess I should have seen this one coming. This movie is on right now. There are about 20 minutes left. I don't need to finish it before I write the review, I already hate it. I watched it because it's on all the lists, and three people I trust have told me how much I need to see it. Not until the Netflix actually arrived did Jonathan say, "I think you aren't going to like this movie." He was right.

Everyone is so annoying! EVERYTHING is so annoying. I want to kill all the characters, except Baby the Leopard. This is the opposite of my sense of humor. I'd rather watch Laurel and Hardy carry a piano up some stairs.

This movie would have been better with Audrey Hepburn and Jimmy Stewart, by the way. I believe Cary Grant as an uptight nerd as much as I would believe Paris Hilton as the president of the US. Oh, and there's a lot of Amanda Bynes-style falling over adorable clumsiness. FAIL.