3.5/4

2/4

2/4

3/4

2/4

3/4

3/4

1.5/4

2/4

2.5/4

1.5/4

2/4

2.5/4

1/4

2/4

2.5/4

2.5/4

2/4

2/4

3/4

2/4

2.5/4

1.5/4

2/4

2.5/4

Prev 25 | Next 25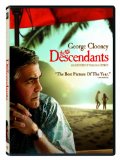 Descendants, The (2011)
Exceeded Expectations Given the Subject Matter
3/4 stars
So this movie is nominated for Best Drama for a Golden Globe. And it's a pretty dang good one. I wouldn't say it is an amazing movie, but it is at least deserving of some of the praise.

Story: The story matter is not all that interesting. This is mostly why I gave it such a low grade. How it is told is a little better. But really where it shines is the character development and how they shape the complete plot. I still liked it, but wasn't blown away.

Cinematography: There are some amazing shots of Hawaii and some more realistic shots (think big city). I like how they portrait Hawaii less as a paradise and more as a home. This is the first I had seen this. Each shot is is set up with the characters in mind. Yeah it looks standard from the outside looking in. But Payne is very careful to only show you what you should see and he doesn't bore you with all of the details. Not super impressive, but helps make the movie very cohesive.

Score: There isn't much here. Mostly island music and I suppose it lends to the movie. I think there could have been more added, but then again, I am always begging for music and really makes the movie more than it is.

Acting: Really incredible by everyone. Clooney is probably one of his best performances. He is very believable. Even the kids in this movie do an outstanding job. This is why this movie is so good. All characters are pretty deep, even though the film is less than 2 hours long.

It is the perfect length movie. I was never bored, always entertained and had a good time. The subject matter isn't exactly for me, but I still really liked it. Recommended for Drama fans.