3.5/4

2/4

2/4

3/4

2/4

3/4

3/4

1.5/4

2/4

2.5/4

1.5/4

2/4

2.5/4

1/4

2/4

2.5/4

2.5/4

2/4

2/4

3/4

2/4

2.5/4

1.5/4

2/4

2.5/4

Prev 25 | Next 25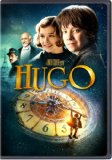 Hugo
Doesn't Find True Potential But Still Intersting
3/4 stars
The story is the best part of this movie. The trailers made it look pretty awful but due to the massive amounts of positive reviews and my affection for Scorsese, I chose to see it.

The Story: Again, the best part. The trailer looks a little dumb and does a poor job of telling what the heck the movie is about. In brief it is about an orphan boy in the 1930s who must keep the clocks working in order to not be found by the police. His only grasp on happiness centers around an unusual toy robot that him and his father were repairing. Still doesn't sound interesting? Put Scorsese behind the camera and tell me what you think. It is told very well.

For me personally, the story was really interesting once the movie became more about movies, rather than about a boy. The history of movies is buried in this film and I loved it.

Style/Cinematography: With Scorsese as the project lead, it is easy to assume that it is amazing, and it is. The 3D is really good (though I am still not a fan) and each shot is carefully crafted to get the most information to the viewer. Awesome job as always. It truly looks like an old school Hollywood movie, with tons of details, rich colors, perfect music, and all of that stuff.

Music: I touched on this a bit earlier, but it lends some character to the movie. It isn't great but definitely has that old school flair with a little bit of the French music sound. I liked it a lot. It wasn't distracting and it added just enough.

Acting: Except for Ben Kingsley, the acting was not good. The young boy was pretty bad at time and the girl was just alright. Sacha Baron Cohen could have been much better but he didn't add enough to the movie to be warranted.

What went wrong: It was way too long for a children's movie and not interesting enough to be an adult movie, either. I really liked the concept and what he was trying to accomplish but ultimately he falls way short. We are stuck with a decent/good movie that only appeals to movie buffs, critics, and men that are boys at heart. Others will be disappointed, bored, and will instantly forget it.

I think Scorsese should stick to crime dramas. He rocks at that.