3/4

2/4

1.5/4

2/4

2.5/4

2/4

3.5/4

2.5/4

3.5/4

3/4

2.5/4

2.5/4

3.5/4

3/4

0.5/4

2.5/4

3/4

2.5/4

3/4

1.5/4

3/4

3.5/4

3/4

3/4

3/4

Prev 25 | Next 25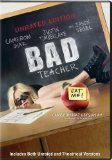 Bad Teacher
Not a BAD Movie
2.5/4 stars
A decent comedy that had me a bit surprised. Some how this is the funniest movie of the year so far for me. Cameron Diaz does an awesome job for the role. She is believable. Jason and Segel is really funny as always and provides good balance for Diaz. JT is kind of funny but does a good job at acting. I am impressed with his skilz on screen, which is important for him considering he has not released a single in years.

The story is somewhat original, or at least it is not something I have seen recently. Too many times, these comedies turn into a rom com, but this one does not. I liked the story for what it was. It was a bit daring at times and really took teacher comedy to a new limit. Thankfully it was rated R.

I am a hug Cameron Diaz fan. I think that as time goes on she will have better roles than this but this one helps solidify her as a leading lady. She may not have aged as well as some of the other 90s superstars, but she is a better actress and her career will be fine.

See it for a good laugh if you need some relief.