1.5/4

2.5/4

3/4

2.5/4

3/4

3/4

2/4

3/4

2.5/4

3.5/4

1.5/4

1.5/4

2.5/4

3/4

2/4

3.5/4

2.5/4

2/4

2/4

1.5/4

3/4

2/4

2.5/4

3/4

3/4

Next 25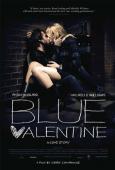 Blue Valentine
Real
3.5/4 stars
One of the best movies of 2010. Great performance as always by Ryan Gosling. He is a top of the line actor that knows how to choose his roles. Michelle Williams is OK but mostly plays a bitch. I can't tell if this is how she is in real life or just in every single one of her roles.

The story is real and is probably a depiction in many people's lives in America. I feel sorry for these characters. I am also angry at these characters.

If you want to watch a real life drama about the ins and outs of a relationship, this is for you. Move over Revolutionary Road, this one is more real than you ever could be (though I like RR better for other reasons). Great music, great setting and perfectly cut. It is different than many movies you have seen.

So the NC-17 rating....not seeing any problems. It is no worse than many movies. The main difference is that these aren't gracious love scenes, these are real love scenes. It's rated R for a reason.