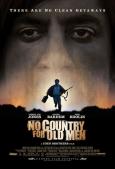 No Country for Old Men
No Country, No Sense
2/4 stars
Sadly, this film is incredibly overrated. Admittedly, I was going into this film with high expectations, as I think highly of the Coen Brothers. But this film fails on many fronts. Javier Bardem was wonderful in a complex role as Anton, but that was the only bright spot in a pretty boring farce that left a bad taste in my mouth. The story was bare...