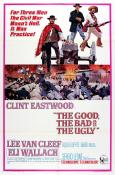 Good, the Bad and the Ugly, The ( buono, il brutto, il cattivo, Il )
There are two kinds of people in this world.
4/4 stars
The good the bad and the ugly is a great western, Starring Clint Eastwood, Lee Van Cleef, and Eli Wallach. In the beggning you may get confused because there isnt really much of a goal but when Tuco and Blondie set off in the desert only to find this man who knows where 200,000 dollars worth of gold is well you know wheree thats going to go. In th...