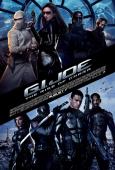 G.I. Joe: The Rise of Cobra
The classic popcorn action flick is back!
3/4 stars
copy and paste below for the audio podcast http://www.box.net/shared/static/jzfyvmlz9z.mp3 "G.I. Joe" rated PG-13 for strong sequences of action, violence, and mayhem throughout Starring—Dennis Quaid, Channing Tatum, Sienna Miller, Marlon Wayans Directed by—Stephen Sommers Welcome to classic popcorn movie with explosive action, mythical we...