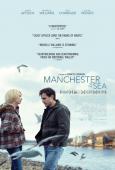 Manchester by the Sea
Quiet, Good Movie; Cinematography Great
2.5/4 stars
Manchester by the Sea was a good, but not great, movie. It's a solemn movie that follows a man through life, as he plods along in self-punishment, being rude, mean, anti-social, and depressed, as he self-medicates with booze along the way. All this as self-punishment for the unintentional part he played in some family deaths previously. Casey Af...